ACCOUNTING SOFTWARE TO MAKE YOUR LIFE EASIER!
The all-round accounting package to serve your business.
Real Time accounting
Smooth handling of cash in-and-out and automatic updating of ledger entries.  Read More
Be Compliant
Generate schedules for internal and external stakeholders on par with statutory requirements.  Read More
Streamline Banking
Handle the bank deposits and direct payments. Monitor your unrealized deposits through reconciliation.  Read More
Receipt Voucher
Create your receipt against generated invoices.  Entution even lets you enter post-dated cheques to create receipts!  Read More
Bank Transactions
Overview the real-time status of bank facilities. Process deposits, bank transfers and direct payments.  Read More
Journal Entries
Update the ledger simultaneously with financial transactions and set recurring journals as well.  Read More
Financial Statements
Easily view the company's financial position with custom formats for financial statements.  Read More
Looking for an Enterprise Solution?
Learn more about how Entution can scale up to provide complex and powerful features to automate your business processes.
Your Business
At your Fingertips
Take full control over your Sales Operations, Marketing Effort,  Finance and Accounting operations, Manufacturing Process, Supply chain Activities and Projects and Services without hassle.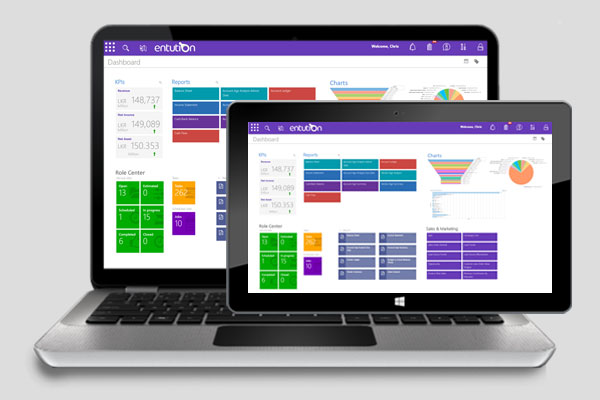 Want to know more about our solutions?